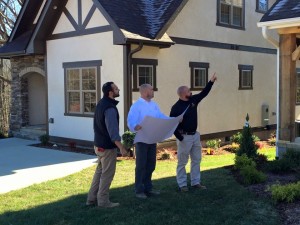 At Sure Point Builders, our mission is to provide our customers with quality service through a project that not only meets, but exceeds their expectations. We are uniquely qualified to assist our clients with a variety of tasks from the earliest thoughts of a building or renovation project to assisting clients with construction management services. Our broad experience base provides us with the ability to service clients' needs in every phase, at every level of need, through any construction project.
Sure Point Builders guarantees quality construction and innovative solutions to help you create the most effective and efficient environment for your home or business. At Sure Point, form meets function!
Sam Metcalf
Sam is a 5th generation Home Builder. The Metcalf's built their first home outside of Asheville, NC in 1903 and have been building in Western NC ever since. Before forming Sure Point Builders with Wade, he worked along side his father Dan Metcalf for more than ten years. During that time, he learned the proven methods that have worked for the Metcalf's for over 100 years.
Wade Ogle,Jr.
Wade graduated from Appalachian State University where he majored in Construction Management and minored in Regional Planning. He currently has more than 7 years of multi-family construction experience in which he was listed as the superintendent. He has worked for such companies as Blue Ridge General Contractors and Makson Plumbing & Construction.
Jeff Ogle
Jeff graduated from Appalachian State University in 2005 with a degree in Business Management. Prior to joining Sure Point Builders, Jeff worked in the real estate appraisal industry for over 8 years. Jeff has experience appraising residential properties, residential subdivisions and complex, income producing commercial properties. He is a Certified Residential Appraiser and is currently pursuing the General Certified Appraiser certification